The Chained Coffin is a 1995 short story written and drawn by Mike Mignola.
Publishing History
[
]
The Chained Coffin was originally published in black and white in Dark Horse Presents #100–2 (Aug 1995). One month earlier, a three-page preview had been published in Dark Horse Presents #100-0, an exclusive included with Hero Illustrated #26. John Arcudi wrote a sequel, Subconscious, twenty years later.
Synopsis
[
]
The story is framed by Abe Sapien reading a letter from Hellboy about his travels back to the church in East Bromwich, the place of his "birth". Hellboy recounts that the psychic Cynthia Eden-Jones thought Hellboy's appearance was related to two spirits in the church and not a Nazi experiment.
Hellboy falls asleep in the church and dreams of a dying woman. The woman admits to having been a witch, but now she renounces her past and asks for God's forgiveness. The woman asks her children, a priest and a nun, to save her soul. She instructs them to chain up her coffin and guard it from the devil for three nights.
Hellboy awakes to see a vision of the priest and nun standing over a chained coffin. A demon enters the Church, and after a brief confrontation, he kills the priest and nun. The demon reveals that the woman's "real child" is still unborn, conceived at Walpurgis-Nacht many years ago. The demon looks towards Hellboy while saying, "My favorite son." The demon takes the woman down to hell forever.
The story ends back with Abe Sapien asleep, dreaming of fish.
Changes from Black and White to Color
[
]
The black and white version included a brief mention of Dr. Robert Carson, a character created by John Byrne from Danger Unlimited. Doc Carson's appearance was part of a plan for an Adams-Byrne-Mignola shared universe. However, Doc Carson was removed for the color version when it was collected in Hellboy – Volume 3: The Chained Coffin and Others, in August 1998. By this point the shared universe plans had been abandoned. (For more information on the abandoned shared universe, see The Torch of Liberty.)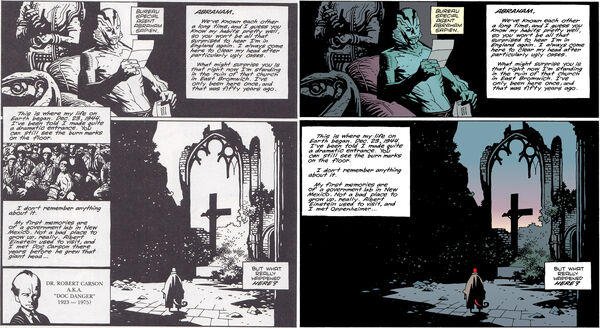 Left: Black and white 1995 version
Right: Color 1998 version
Appearances
[
]
Recurring Characters
[
]
Main
   ☚ • ☛ Hellboy
   ★ • ☛ Sarah Hughes (Flashback/Dream)
   ★ • ☛ Azzael (Flashback/Dream)

Secondary
   ☚ • ☛ Abraham Sapien
   ☚ • ☛ Cynthia Eden-Jones (Mentioned Only)
   ☚ • ☛ Trevor Bruttenholm (Mentioned Only) (Photograph, Black and White version only)
   ☚ • ☛ Sarah Hughes's Children (Flashback/Dream)

Groups and Organizations
[
]
U.S. Army

(Photograph, Black and White version only)
Additional Characters and Creatures
[
]
Dr. Robert Carson (Black and White version only)
Notes
[
]