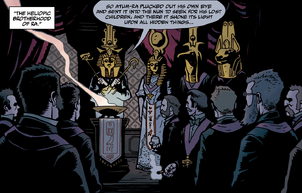 | | | |
| --- | --- | --- |
| | So Anum-Ra plugged out his own eye and send it to the Nun to seek for his lost children, and there it shone it's light upon all hidden things... | |
Ra was the ancient Egyptian deity of the sun.
Hellboy (2019 movie) Edit
Hellboy claimed he met Ra once in the underworld, claiming that the deity would drool quite a bit while talking.
The Heliopic Brotherhood of Ra, a secret society dedicated to preserve ancient and secret knowledge, named themselves after the deity.
Appearance Edit