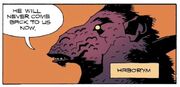 Haborym is one of the demon lords in Hell.
History
[
]
In 1947, when a young Hellboy consumed pancakes for breakfast, most of the demons in Hell screamed in horror. When Grand-Duke of Hell Astaroth asked his servants what was going on, Mammon told about the pancakes and Haborym stated that "he will never come back to us now".
Lore
[
]
In demonology, Haborym (also known as Aym or Aim) is a Great Duke of Hell who governs over 26 legions of demons.
Appearances
[
]