Sergeant George Whitman was a U.S. military official during World War II.
History
[
]
George Whitman orchestrated the gathering of three paranormal experts in 1944, consisting of Trevor Bruttenholm, Malcolm Frost, and a psychic, Lady Cynthia Eden-Jones. Whitman, along with these specialists were present during the event known as the "Hellboy incident." Also present was Nazi fighting super-hero The Torch of Liberty, who Whitman was surprised to see simply enjoying a cup of coffee with the rest of his men, unlike the hero's usual public appearances.
Other Media
[
]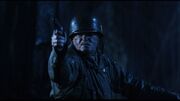 George Whitman appears in Hellboy portrayed by Agnus Maclnnes he was an army sergeant that lead the military raid on the Ruins of Trondham Abbey. His mission was to sabotage Rasputin's ritual and defeated the Nazi unit.
In the Hellboy animated series, Whitman appears in Hellboy: Sword of Storms.