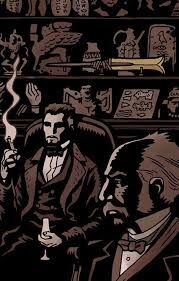 August Swain was a prominent member of the Heliopic Brotherhood of Ra during the late nineteenth century, seemingly in charge of the Brotherhood's actions in London. On numerous occasions he met Sir Edward Grey, including the 1879 investigation into the Hyperborean ghost affair. During this incident it is probable Swain ordered the death of a gentleman known as "the Captain" and the medium Mary Wolf, both allies of Sir Grey.
In 1882, Swain offered assistance to Sir Edward in his investigation of a Mr. Friedhof. Sir Edward declined the offer initially, but on discovery that Friedhof was actually a powerful vampire known as Giurescu, he reluctantly allied himself with Swain and the Brotherhood in order to defeat Girurescu and his vampire army.
Trivia
[
]
The design of Swain was based off the horror icon Christopher Lee, particularly his appearance in The Devil Rides Out.